60% of smart watch owners subscribe to a paid streaming music service such as Apple Music, Spotify, or Pandora One
IoT research firm announces new research on streaming audio services and wearable technologies at CES® 2017
New U.S. consumer research from Parks Associates reveals that 60% of smart watch owners and 48% of fitness tracker owners subscribe to a paid streaming audio or music service such as Apple Music, Spotify, or Pandora One. 360 View: Digital Media & Connected Consumers notes that consumers with wearable technologies are more likely to subscribe to streaming music services, while 69% of non-owners have no subscription at all. Among all U.S. broadband households, 33% have a paid streaming music subscription, up from 26% in mid-2015.
"Exercising has become a prominent use case for streaming music. People are carrying connected devices with them to the gym or running trails," said Glenn Hower, Senior Analyst, Parks Associates. "Fitness enthusiasts are emerging as a key segment for streaming music providers, and media companies should target these consumers with services that complement their connected wearables and fitness devices."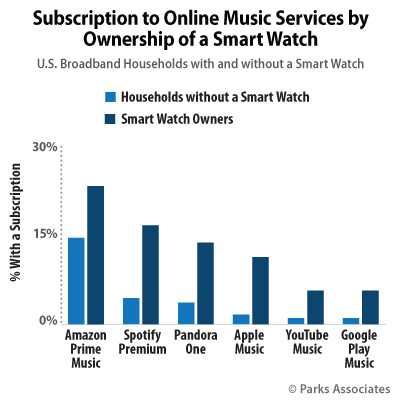 IoT research firm Parks Associates is at Booth #41073 in Sands A-D during CES® 2017. Yesterday the firm presented research and analysis, including discussion on the growing wearables market and its impact on the smart home, at the firm's CONNECTIONS™ Summit. During CES, Boltt is showcasing a new line of the company's fitness-tracking options, including its AI Health and Fitness Coach, Connected Shoe, Stride Sensor, and Smart Band. Parks Associates notes these technologies create opportunities for additional revenues through partnerships with streaming music providers.
"Although consumers who have adopted wearable technologies are in the minority, wearable tech presents bundling and partnership opportunities for streaming music providers to generate incremental revenues in the form of revenue shares or SPIFs," said Harry Wang, Senior Research Director, Parks Associates. "With nearly half of fitness tracker owners and over half of smart watch owners subscribing to a streaming music service, these device owners clearly value benefits such as commercial-free, on-demand content, and the ability to control their playlist or mood of music. Device makers could also explore new partnerships or strategies to leverage these services to bring fun experiences and drive usage of their platforms."
360 View: Digital Media & Connected Consumers analyzes trends in music and video consumption by platform, source, and content expenditure. It segments consumers based on their consumption habits and identifies how these habits have been changing over the last four years and how the relative size of each segment is changing. The research also explores OTT service subscriptions as well as current online gaming consumption figures. Additional research from the report shows:
15% of U.S. broadband households indicate they have a subscription to Amazon Prime Music, which likely reflects usage of the streaming music portion of Amazon's Prime service, as nearly 30% of households indicate they have a subscription to Amazon Prime Video
24% of fitness tracker owners have a subscription to Amazon Prime Music, while 10% subscribe to Spotify Premium.
Only 2% of non-owners of fitness trackers subscribe to Apple Music, while 5% of fitness tracker owners and 10% of smart watch owners subscribe to Apple Music.
More information about this 360 View is available at www.parksassociates.com. Parks Associates hosted the 11th-annual CONNECTIONS™ Summit at CES on January 5, 2017, in Las Vegas. The one-day conference included more than 300 industry executives and featured new consumer data presented by Parks Associates analysts.
To schedule an interview with an analyst or to request specific data, contact Holly Sprague at hsprague@gmail.com, 720.987.6614. Parks Associates will be at Booth #41073 in Sands A-D throughout CES 2017.
About Parks Associates: Parks Associates is an internationally recognized market research and consulting company specializing in emerging consumer technology products and services. Founded in 1986, Parks Associates creates research capital for companies ranging from Fortune 500 to small start-ups through market reports, primary studies, consumer research, custom research, workshops, executive conferences, and annual service subscriptions.
The company's expertise includes the Internet of Things (IoT), digital media and platforms, entertainment and gaming, home networks, Internet and television services, digital health, mobile applications and services, support services, consumer apps, advanced advertising, consumer electronics, energy management, and home control systems and security.
Each year, Parks Associates hosts industry webcasts, the CONNECTIONS™ Conference Series, Smart Energy Summit: Engaging the Consumer, and Connected Health Summit: Engaging Consumers.