60% of U.S. broadband households are concerned that someone will get unauthorized access to smart home products/devices
International research firm Parks Associates announced new consumer research today showing 60% of U.S. broadband households are concerned about the security of smart home devices, including 45% who are very concerned. The firm's analysts will discuss the top trends at CONNECTIONS™ Summit tomorrow in Las Vegas, featuring six executive sessions on the smart home, the IoT, connected entertainment, and the potential impacts of security and privacy issues on the growth of these markets.
The research firm recently released the whitepaper Top 10 Consumer IoT Trends in 2017 ahead of CES, featuring insights from Parks Associates' analyst team on the key topics driving growth and monetization of the IoT.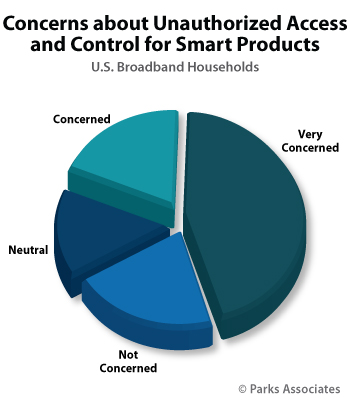 "Roughly 60% of U.S. broadband households are concerned, with the majority very concerned, that someone will be able to access and control their smart home products," said Stuart Sikes, President, Parks Associates. "Privacy and support concerns are outpacing smart home adoption, which is currently at 26% of U.S. broadband households, and companies need to address these concerns to continue growth in these sectors. 2017 will offer companies multiple opportunities to take the lead in protecting consumer privacy and data."
Top 10 Consumer IoT Trends in 2017addresses trends in the connected home, health, and mobile industries:
Voice control is vying to become the primary user interface for the smart home and connected lifestyle.
The smartphone market plateaus, and mobile carriers experiment to retain subscribers, which will threaten fixed broadband services.
CE manufacturers focus on new product categories and ecosystem strategies to compensate for stagnation in a mature market.
Virtual and augmented reality gain a foothold in niche operations and greater awareness among early adopters, creating opportunities for social VR experiences.
The differences between on-demand and live viewing continue to blur as consumers embrace a variety of OTT video services.
Consumers increasingly expect connectivity in their cars, but pricing, safety, and data privacy concerns inhibit market growth.
To cross the chasm, the smart home industry will continue to develop new use cases for security, peace of mind, and energy management.
Insurers are exploring new business opportunities in smart home products and services and will continue to launch trials and new partnerships.
Wearables and smart watches are expanding as healthcare tools and will be integrated with other IoT applications.
Consumerization of healthcare services and devices drives integration with smart home ecosystems and new business models.
"New players and product categories are emerging in consumer electronics, challenging the traditional players that have deep pockets and established distribution channels," Brett Sappington, Senior Director of Research, Parks Associates. "Online giants like Amazon and Google have the scale and technology capabilities to take risks in new areas of innovation. In some cases, these innovations are transforming whole sectors within the connected home."
"The smart home is still in a stage in which the primary perceived value is in the convenience of home automation," said Brad Russell, Research Analyst, Parks Associates. Consumers do not yet conceive of devices collaborating or sharing data to deliver more intelligent services. More complex and less obvious use cases, such as multiple energy-related devices working together, will require consumer education efforts. Bundling of complementary devices can also help consumers see their interoperability benefits more clearly when promoted with careful messaging about the enhanced savings or safety they can achieve together."
"A universal standard connection protocol would be very helpful to the hardware manufacturers and end users," said Chester Chen, Director of International Market, Galaxywind Network Systems Co., Ltd. "That development would enable a stable and problem-solving user experience that is very critical in cultivating the market. Users are expecting innovative products that can solve problems."
"Based on the uptick we have seen throughout the health IT space around the move to more consumer-centric devices, wearables, and health apps, I anticipate that in the near future, the ability to have a personal, mobile health ecosystem as the central management point of an individual's health, driven by and around the consumer, will become the industry's modus operandi," said Terry Duesterhoeft, President & CEO, A&D Medical. "In that environment, where devices and applications seamlessly work together, we will see overall technology costs come down and utility and, most importantly, utilization go up."
"The major innovations driving the connected home markets include automation, availability of geo-location information, and faster, easier, and cheaper connectivity, which allows for more applications and services," said Pierre Fitzgerald, Global Energy & Utilities Industry Lead, Ericsson. "We are also connecting more devices everywhere, which creates more data to use for more applications and opens up new combinations of data and services. Robustness and security will be key elements to build consumers' trust."
"The essential step in engaging consumers in smart home solutions is to provide products that are both convincing and exciting for the consumer," said Bernd Grohmann, Executive Vice President and CTO, eQ-3 AG. "To do so, smart home providers must provide solid answers to questions about ease-of-use, robustness, security, data privacy, cost, and long-term-availability of compatible products, while providing a complete product range for a simple, yet easy-to-extend set of use cases."
"Smart home solutions will need to be intuitively simple to deploy and control in order for users to realize maximum value and for brands to achieve mainstream adoption," said Chris Koverman, VP of Product & Engineering, Support.com. "This requires tech support to be integral to the solutions themselves and take advantage of user and device context for an effortless customer experience."
"I believe that in 2017 we'll see more manufacturers, retailers, and dot.coms enter the smart home space offering both new products and services," said Bill Lee, Vice President of Smart Home Product Marketing, Samsung Electronics America. "This growth may introduce lower price points, more promotions, and additional activations that will bring new consumers into the space. This same growth could also introduce confusion and complexity, and it is therefore critical for the industry to rally around having authentic conversations with consumers around simplicity of setup and use."
"Enabling voice control of connected products will drive some extra products into the market. But ultimately, whichever company creates a truly fresh and compelling user experience—the smart home 'killer app', if you will—that company will set the bar for their brand, and others will race to catch up," said William Oget, VP Engineering, Arrayent Inc. "This probably won't come from an innovative engineering team or an interesting technology. It'll come from a company that invests in ethnographic research and has teams of user experience designers and marketers who will first invent, and learn how to sell us, the next thing we can't live without. The smart home concept needs rethinking at the scope of an iPod or iPhone, not a connected toaster."
"The most important next step to engage consumers in all of the smart 'things' the vendor community is bringing to the smart home is to 'show me (the consumer) the value' of said services," said Isaias Sudit, Founder, TROVE Predictive Data Science. "Every player in the smart home market has the capacity to wow customers with its amazing technology, but amazing technology alone is not enough. More effort needs to be placed on why a customer needs it, the problems it solves, and the value it delivers. And this needs to be combined with ease of use and affordability."
To download Top 10 Consumer IoT Trends in 2017, visit www.parksassociates.com/top10. To schedule an analyst interview or to request specific data, contact Holly Sprague at hsprague@gmail.com, 720.987.6614.
CONNECTIONS™ Summit concludes with a Networking Reception, sponsored by Homematic IP. CONNECTIONS™ Summit sponsors include Homematic IP, Vivint Smart Home, Alarm.com, Arrayent, Audio Analytic, Carrier, Cirrent, EVRYTHNG, Galaxywind, Greenwave Systems, Hampton Products, Icontrol Networks, NXP, ROC-Connect, Support.com, Sutherland Global Services, TROVE, and Whisker Labs.
For more information on Parks Associates research or events, visit www.parksassociates.com, or contact sales@parksassociates.com, 972-490-1113. Parks Associates will be at Booth #41073 in Sands A-D throughout CES 2017.
About CONNECTIONS™ Summit at CES
CONNECTIONS™ Summit at CES is an annual research and industry event hosted by international research firm Parks Associates at CES in Las Vegas. The executive event features one day of panel discussions on the smart home, Internet of Things (IoT), and connected entertainment, with trends and implications for connected consumers and opportunities for companies to build new revenues and innovative business models.
The 2017 CONNECTIONS™ Summit will take place January 5 during CES, which runs January 5-8 in Las Vegas. Follow the event on Twitter at @CONN_Summit.
For information about CONNECTIONS™ Summit, contact sales@parksassociates.com or call 972-490-1113 or visit www.connectionssummit.com.