Saving money increases interest in smart home devices among 60% of U.S. broadband households with no previous purchase intentions
CONNECTIONS™ Summit at CES® to feature session on IoT support strategies featuring Level Up Your Home, Minim, and Trusource Labs
Jan 2, 2019 -- New research from Parks Associates shows the prospect of saving money, either through reduced household bills or a discount on insurance premiums, raises the interest in smart home devices among 60% of the U.S. broadband households that do not own and do not intend to purchase a smart home device. The research firm will host its 13th-annual CONNECTIONS™ Summit: IoT and the Smart Home on January 8 at CES® 2019 in Las Vegas, which concludes with a networking reception, sponsored by Homematic IP.
"Roughly 46% of U.S. broadband households currently have no intention to purchase any smart home devices," said Patrice Samuels, Senior Analyst, Parks Associates. "Delivering on the promise of saving money is among the key factors that will drive purchase intentions among these consumers."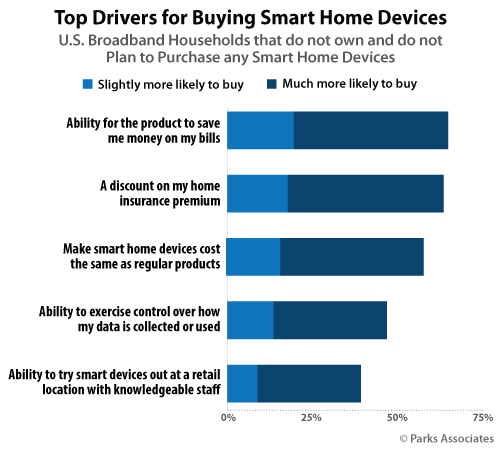 CONNECTIONS™ Summit features multiple sessions examining mass-market business strategies, partnership opportunities, the impact of voice on the user experience, and advances in AI and data analytics. CONNECTIONS™ Summit sponsors include Alarm.com, Alula, Asurion, Cirrent, F-Secure, Hive Home, Homematic IP, Inspire, Johnson Controls, Minim, ROC-Connect, and Trusource Labs.
The session In-Home Tech Support: Creating Consumer Confidence, January 8 at 12:15 p.m., addresses how brands are leveraging proactive support interactions to engage their customers, drive higher ROI, and build consumer confidence in the safety, security, and reliability of their IoT experiences.
Jeremy Hitchcock, Founder/CEO, Minim
Jennifer Mallett, CEO/President, Level Up Your Home
Alton Martin, Co-Founder/Chief Evangelist, Trusource Labs
"With an average of nine devices in U.S. broadband households and growing, today's home WiFi resembles a small business network— but without IT staff to secure and manage it," said Jeremy Hitchcock, Founder/CEO, Minim. "It's no wonder we're seeing increased call volumes to ISPs, fifty-percent of which are WiFi related. We believe service providers can transform this pain point to increased revenue and customer satisfaction by offering holistic, smart home tech support. They just need the right toolset, which is what Minim provides."
"Connected products are innovating our lives," said Jennifer Mallett, CEO/President, Level Up Your Home. "Service experiences need to be designed to meet that innovation in order to drive anticipated adoption and a more effortless ownership experience."
"To deliver on the promised savings in the connected home, the devices need to work flawlessly from installation onward. Unfortunately, this promise isn't always kept, and the end user needs help to remedy the situation," said Alton Martin, Co-Founder/Chief Evangelist, Trusource Labs. "At this point, a superior service experience will make the difference between a happy customer and a complainer. Trusource Labs is proud to work with Parks Associates to share the best practices we have learned in the past 5½ years of doing just that – providing excellent service to complex products."
To request data or an interview with an analyst, please contact Julia Homier at Julia.homier@parksassociates.com. For information, visit https://www.ces.tech/conference/Connections-Summit.aspx.
About CONNECTIONS™ Summit at CES
CONNECTIONS™ Summit at CES is an annual research and industry event hosted by international research firm Parks Associates at CES in Las Vegas.
The 2019 CONNECTIONS™ Summit features panels examining successful consumer-focused strategies in designing and deploying IoT, smart home, and connected CE and health solutions. Leading analysts from host Parks Associates present consumer research and moderate expert discussions on crossover opportunities among these ecosystems, with insights on emerging trends, including AI, voice controls, and growing privacy concerns. CONNECTIONS™ Summit at CES is THE place to be to learn about the smart home, get the latest consumer research, and network with strategic decision makers in this growing market.
The 2019 CONNECTIONS™ Summit will take place January 8 during CES, which runs January 8-11 in Las Vegas. Follow the event on Twitter at @CONN_Summit.
During CES, visit Parks Associates at Booth # 42,953 in the Sands Expo Hall (Tech West), connected to the Venetian Hotel.
For information about CONNECTIONS™ Summit, contact sales@parksassociates.com or call 972-490-1113 or visit www.connectionssummit.com.